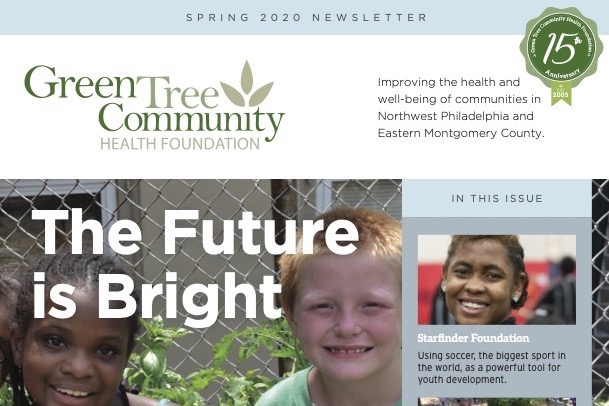 Happy New Year!
It is a little belated, but I do hope you've had a wonderful beginning to 2020. Time is moving so quickly it's hard to believe it is mid-March already.
Happy 15th Birthday to Green Tree! On pages 6-7 take a look at some of Green Tree's historical highlights. Without your help we would not be here – Thank You! Without our amazing volunteers and committed donors Green Tree would not have been able to accomplish all that has been. Please take a moment to meet two such volunteers – Erin O'Connor and Janet Waxman. If you would like to volunteer with us, please do not hesitate to connect with us!
Being such an important point in our history, Green Tree determined now is the perfect time to evaluate where we are, where we want to go, and how we can best serve this community. This strategic planning process is long and deep. We are seeking input from grantees, volunteers, donors, community members, and peer foundations among others. If you would like to be a part of this process and have not yet had the chance, please contact us. There are multiple ways to participate, the easiest being to follow the link on our website to take the brief survey. Your input is valuable!
Thank you so much for your time and commitment to Green Tree! I hope you enjoy this newsletter that focuses on services that improve the lives of children in our area. It is moving to think that our life expectancy is related to the zip code in which we live. Did you know that the life expectancy of a child born in Chestnut Hill (19118) is 84 years while a child born in Mt. Airy (19119) is 77? And in Germantown (19144) it is 76? The national average is 78 while in Philadelphia County it is only 75.* There are so many factors that influence health and life expectancy that we cannot say it is only zip code, but when one mile can make a seven year difference we need to learn how we can best support the children of our community such that their immediate health as well as long-term outcomes improve.
Thank you again for your commitment to health in our community!
Bethany