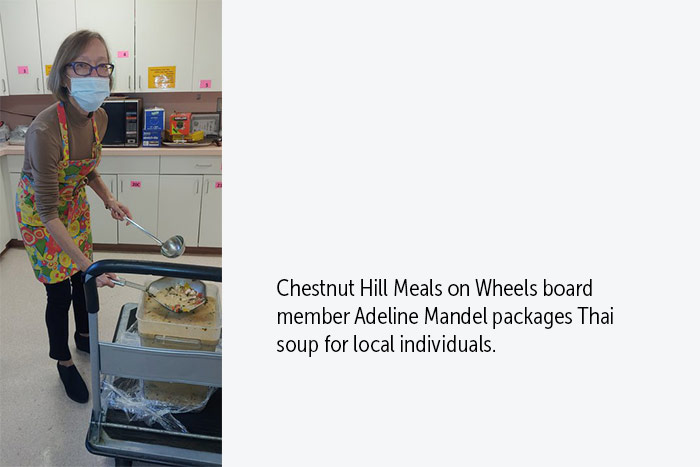 Meals on Wheels volunteers persist through pandemic challenges
by April Lisante
"What is the essence of life? To serve others and to do good." – Aristotle
It is a Monday morning, just before 9 a.m. and already, the parking lot at the First Presbyterian Church in Springfield is bustling with cars – and food.
Today, the special deliveries are Thai coconut chicken curry soup, turkey and provolone sandwiches, pierogis and gourmet cupcakes, among other goodies.
As you enter the church foyer, Aristotle's words greet you on a dry erase board. It is a reminder, but just looking around, it is already obvious: serving others is the everyday mission of the Chestnut Hill Meals on Wheels, a local lifeline for more than 80 families and individuals on our area.
I wrote about the organization's fall Harvest Kitchen Tour event last year, which allows locals to visit gorgeous local kitchens and sample local chefs' dishes. The tour won't be happening this year because of the pandemic, but it also turns out that in March when COVID-19 struck, Chestnut Hill Meals on Wheels had to move from its home base at Halligan's Pub, which was making the food for the organization and had to close temporarily. The Presbyterian church kindly offered the non-profit the space it needed to keep packing and delivering hundreds of meals a day to shut-ins, the hungry and convalescent clients who otherwise might not be able to remain independent in their homes.
So far, as chillier weather and the holiday season arrive, the new routine at Mill Rd. and Bethlehem Pike is working brilliantly, thanks to the generosity of the church, which donated its meeting and kitchen areas, as well as office space, to the organization. The new system is also working thanks to the dozens of volunteers who pack and deliver the lunches and dinners to those in need every day.
"We've been really fortunate," said Chestnut Hill Meals on Wheels Executive Director Lauri Barish. "The coronavirus has really hit everybody and the community has really rallied around us. We couldn't have done it without them."
Many believe the traditional Meal on Wheels is strictly for elderly shut-ins or those financially challenged, but statistics show otherwise.
The organization's mission began about 45 years ago at Chestnut Hill Hospital, when staff noticed the need to help patients who were released from the hospital after surgery and had no one to cook and care for them, organizers say. Today, it has grown to include seven different daily delivery routes stretching through eleven zip codes in our area, serving more than just the elderly.
Since the pandemic hit, the organization has seen nearly 60 new clients, including a 30-something car accident convalescent, elderly folks from Chestnut Hill too afraid to grocery shop and a 20-something single mother with hungry children.
"I think everyone can understand what it means to be hungry at one point of another," Barish said.
Chestnut Hill Meals on Wheels is not federally funded, but rather funded by individuals, donations and grants, including an annual grant from the Green Tree Community Health Foundation, a small health care foundation in Chestnut Hill.
"It's been a long term grant we've given Chestnut Hill Meals on Wheels," said Green Tree Community Health Foundation Executive Director Bethany Flood. "It's because of the great work they do. They really do serve a population of folks there really aren't a lot of services available for."
At 9 a.m. each day, prepared lunch and dinner foods arrive at the church, ready for distribution. Lunch comes as a donation from The Hill at Whitemarsh retirement community, and dinner as pre-paid packages from the Manna on Main Street non-profit. The meals are supplemented with fresh produce donated by Procacci Brothers in Philly, as well as milk cartons and special desserts, which are baked by local volunteers every day. On the day I visited, a Skippack woman had just dropped off dozens of freshly made buttercream cupcakes topped with toffee and individually wrapped in festive fall cellophane.
Volunteer Lisa Pasternack was a speech language pathologist in the Upper Dublin School District – until the virus spurred her retirement. Now, she spends a few days a week busily packing lunch bags, dinners and the desserts to get them ready for delivery drivers.
"It is so great to be able to give to people," Pasternack said. "I think there is a heightened awareness [for helping others] now because of COVID."
Though the daily deliveries have continued to feed those in need, one of the most critical aspects of the Meal on Wheels mission has been impacted: visits between delivery drivers and the clients they know and love.
"We are nourishing more than the body, we are nourishing the soul," Barish said. "Now, the drivers who know the clients so well and used to go in and have a visit can't go inside. If they come outside the driver has to talk to them from six feet away."
With the holidays approaching, now more than ever, it is important to remember those in need. So many local organizations are accepting canned food drop-offs right now. Chestnut Hill Meals on Wheels takes drop-off food deliveries on weekdays between 9 and 11 a.m. outside the church. These packaged goods and toiletries will be delivered along with prepared meals.
"Nobody anticipated the pandemic to last as long as it has," Barish said. "So, for everyone who has donated or can donate, or baked or sent a check, the need is not going to end. Well into 2021."
To learn more about Chestnut Hill Meals on Wheels or to volunteer, call 215-233-5555 or go email info@chestnuthillmow.org.