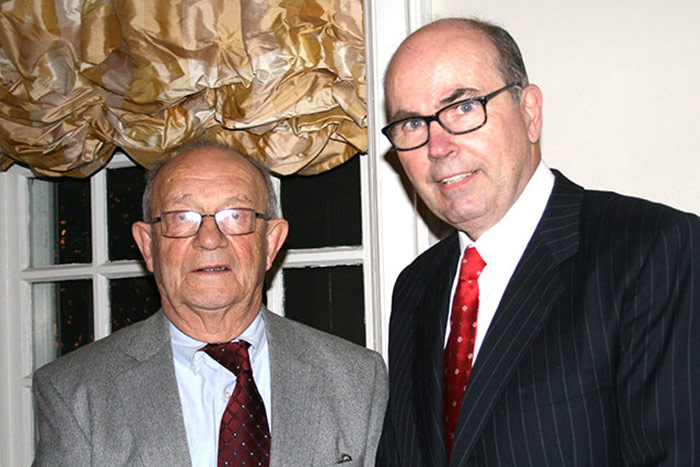 Hill doctor honored for half-century of service
by Sue Ann Rybak
When Dr. Divo Messori graduated from Jefferson Medical College in 1957, doctors were still making house calls. Now, thanks to the internet, patients can download a doctor on demand.
Technology has changed modern medicine, but not a doctor's true purpose to heal others. For more than 50 years, he has remembered the words of the Hippocratic Oath: that there is an "art to medicine as well as science, and that warmth, sympathy, and understanding may outweigh the surgeon's knife or the chemist's drug."
Messori, who believes in the wholistic approach to treating patients, was recently honored by Tower Health's Chestnut Hill Hospital for his years of service. In an email, Dr. John Scanlon, chief medical officer at Chestnut Hill Hospital, said Messori has made numerous contributions to Chestnut Hill Hospital and the community.
"From starting one of the first hospitalist teams in Philadelphia to treating patients at Hillmont GI, he has impacted the lives of thousands of people in our community," he said. "Beyond his clinical expertise, patients and his colleagues love him for his kindness and compassion. He started a fund upon the passing of his daughter, the Elissa Messori Jacobsen Scholarship Fund, that has provided more than $250,000 to nurses at the hospital for advanced education and training. Divo is a remarkable example of the difference one person can have on an entire community."
The Messori Scholarship Fund has provided $217,169 to 63 nurses at Chestnut Hill Hospital.
The scholarship fund, as well as the selection of recipients, has recently been handled by Green Tree Community Health Foundation.
Born in Italy, Messori, now 85, came to the United States, when he was just 7 years old.
"I am an immigrant, even though I was born a U.S. citizen," he said. "I came from Italy in 1939. I was just seven years old. My father was a U.S. citizen since 1924, so by birthright I was a U.S. citizen."
When asked why he became a doctor, he replied, "When I was a paperboy in my teens, I used to deliver the Bulletin to Dr. Fleigaf. I used to see medical books in his trash and sometimes I looked at them. I don't know whether that's what made me acquire an interest in medicine or not. I really can't say there was just one specific incident that led me to medicine.
"If you want to know the truth, when I came from Italy they put me in the third grade because an Italian nun was teaching the third grade who spoke fluent Italian and fluent English," said Messori, who lived on Roanoke Street in Chestnut Hill. "She taught me English as well as my school work. From third grade, I went onto fourth and graduated grammar school at the age of 12 years old and high school at the age of 16."
After graduation, he was offered a half scholarship to what was then St. Joseph's College where he enrolled as a biology major.
"Before I knew it, I was deep into pre-med," he said. I can't say it was a childhood dream or anything like that. The reality is I almost became a priest. After my sophomore year at St. Joseph's, I was impressed by the Jesuits and I thought, 'Gee, that would be nice to be a Jesuit, but because I was born in Italy, they needed all kinds of certificates from Italy including a marriage certificate from my parents and all sorts of stuff. In the process of trying to get all that stuff, I guess I changed my mind."
"My interest in becoming a Jesuit didn't last too long," he added laughing.
After graduating from medical school at 24, Messori continued postgraduate training at Chestnut Hill
Hospital in 1958, where he started his residency in internal medicine.
In 1961, he completed his internal medicine residency at Grasslands Hospital in New York and started a GI Fellowship at Jefferson Medical College. Following his fellowship, Messori opened his own practice in Chestnut Hill. In 1967, he accepted a position as head of gastroenterology at St. Joseph's Hospital in Philadelphia. Then in 1974, he joined Chestnut Hill Hospital with Dr. David Forde as Critical Care specialists and developed the first hospitalist team in Philadelphia area. He was part of Chestnut Hill Medical Specialists for 20 years. In 1995, he formed Hillmont GI with Drs. Gerald Bertiger, James Taterka, Donald Miller and Steven L. Nack.
Unfortunately, as a young Italian-American physician, he experienced a lot of prejudice when he first started practicing in the 60s.
"And that's one reason why I pretty much did general medicine catering to the northern Italian community," he said. "The elite of Chestnut Hill did not accept me as a specialist."
Despite retiring in December, Messori has no intention of slowing down or not treating patients. He plans to continue seeing patients at Volunteers in Medicine, where he has treated uninsured patients for almost a decade in Cape May.
"At 85, I don't know what I am going to do," he said. "My problem is I am not a fisherman. I am not a golfer, so I will continue to volunteer."
Asked what he loves about being a doctor, he replied, "While most people go to work because they have to go to work, I chose a profession that I truly enjoy. It's not a job. You enjoy what you do, and it was nice to be able to make a decent living doing it."