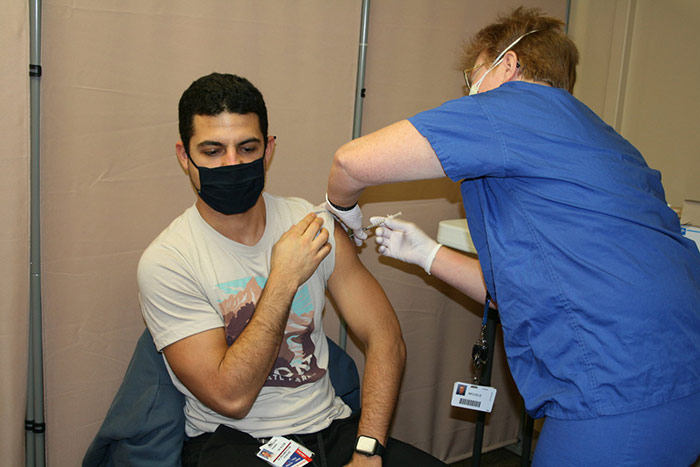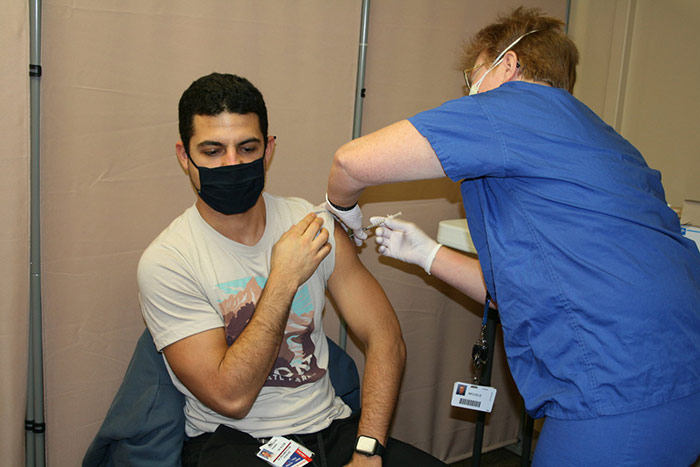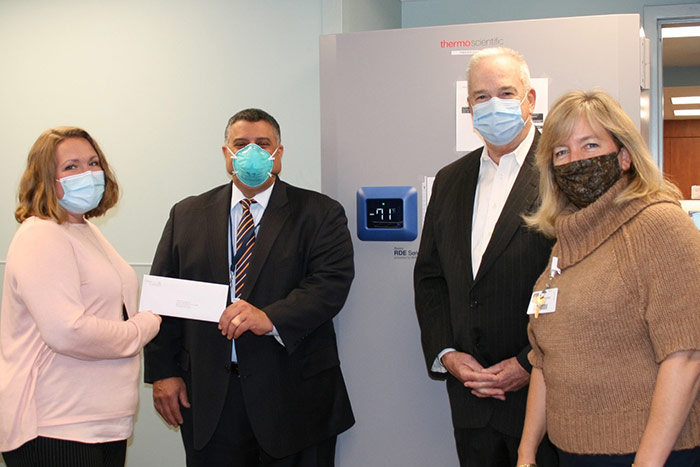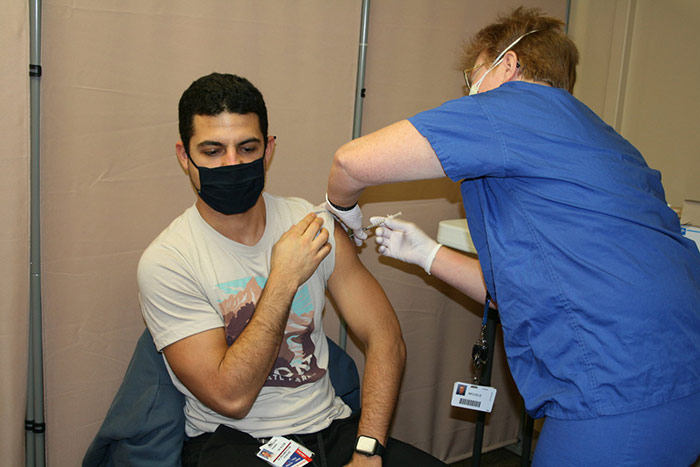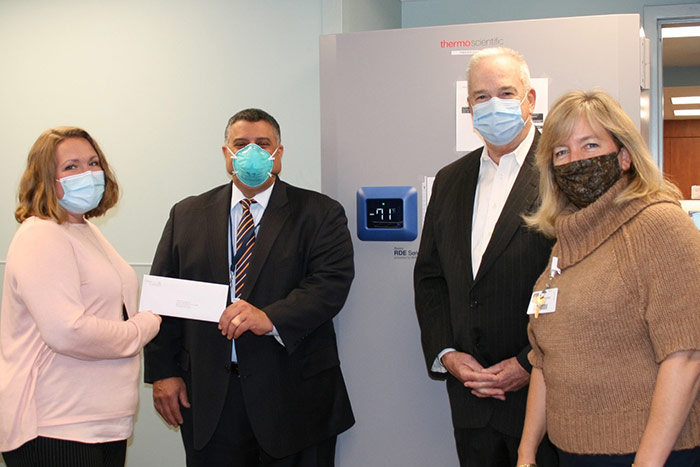 Chestnut Hill Hospital receives COVID-19 vaccine with help from Green Tree grant
by Walt Maguire
Chestnut Hill Hospital has received 205 doses of the Pfizer vaccine and this week began to inoculate staff.
Scott Friend, MBA, BSN, Vice President, Chief Quality Officer, Privacy & Compliance Officer for the hospital, explained the staff had been divided into three "tiers," with staff at the highest risk in the first tier of those to be vaccinated.
"It's not just our employees," said John Cacciamani, MD, President & Chief Executive Officer. The priority is medical staff, contractors and some support staff "in a scenario where their exposure to a significant number of COVID patients would put them at risk." The goal is to eventually vaccinate all employees, but the timing will depend on vaccine availability
The Pfizer-BioNTech COVID-19 vaccine must be stored at -70℃, requiring a sub-zero freezer. The purchase was made possible by a $10,000 grant from the Green Tree Community Health Foundation. The freezer and the vials of vaccine arrived last week, and by the weekend the hospital was ready to administer it.
"Green Tree exists to improve the health of our community and we are very excited to partner with Chestnut Hill Hospital in the purchase of the Covid vaccine freezer," said Bethany Flood, MSSA, MNO, LSW, Executive Director of Green Tree. "It is an exciting step forward in responding to Covid and vital to the prevention of further spread. I look forward to working together in the future as we try to get vaccines out to the broader community over the coming months."
"We want to thank Green Tree for being a great partner with us," Cacciamani said. "Particularly the board, and [Executive Chairperson] Al Thorell, and his leadership, for their help making this happen so quickly. It was really appreciated by us and all of our staff. Hopefully…when more regional distribution of the vaccine comes into play, that may play an important role in storing the vaccine for the entire community."
He felt that Green Tree's assistance has positioned them as a "small but meaningful hospital here in Chestnut Hill that has the technology and the capability that usually only the large academics have the wherewithal to do."
The Philadelphia Department of Public Health is in charge of distributing the city's allotment of vaccine. Though Chestnut Hill Hospital has requested doses for its staff of over 1,000, the timing of delivery is not yet clear (and must take into account the second dose). The Moderna vaccine will also be available soon; both vaccines require a follow-up shot. The addition of the Moderna vaccine both helps, by increasing the supply, and complicates, since the timing for the second dose is different.
"We've got a team that can distribute vaccines pretty quickly," said Friend. "We're waiting to see the allocation that we get." The initial 205 doses were distributed in less than two days. "We're working on a week-by-week basis with the city."
A hospital committee has been preparing for months. Reports on distribution and inventory must be filed with the city every twenty-four hours.
While there is a COVID ward that is considered a high-risk area, changes have kept the rest of the hospital risk at a minimum.
"We've come to realize that is going to continue," Cacciamani said. "We're going to have another six to nine months of COVID. We recognized that we had to adjust what we do to make it as safe as possible for patients who are coming in without COVID."
Dr. Cacciamani emphasized that the hospital's COVID patients are isolated from patients coming for regularly scheduled appointments or treatments.
"We've changed the spacing in our waiting areas to be sure that we've got the adequate distance between people," he said. "Everyone is masked. We really do our best to be sure we are creating the safest environment as possible. When you look at many of the patients who really need ongoing care, they still need to get to their doctors."
According to city statistics, there have been more than 85,000 cases in Philadelphia County, and more than 2,200 deaths. In the first weeks of December there were 35 reported cases in Chestnut Hill, 201in Mt. Airy and 280 in Germantown.
Plans for vaccinating the community are in an early stage, lead by state and city public health strategies. Supplies may be limited for at least four months.